Jaipur Ajmer Pushkar Tour
Destination Covered:
Ajmer (By air-conditioned Car)
Covered Palace:
Adhai Din ka Jhopra- Ajmer Sharif- Ana Sagar Lake- Akbar's Palace and Museum- Nareli Jain Temple- Clock tower, Ajmer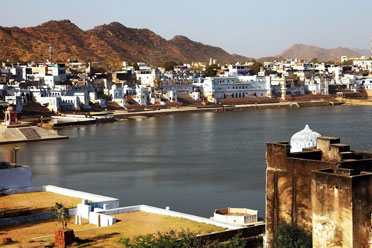 Our Description:
The tour begins in the morning at 8:00 AM after your pick up by Mehta Tours assignee from the hotel. You will enjoy views of Pushkar while driving in the morning then Ajmer Sightseeing Full Day Tour will proceed to the first destination Pushkar Tour and will continue onwards with the destinations mentioned below.
Tourist Attraction Places:
Adhai Din ka Jhopra
Adhai Din ka Jhopara is a Masjid built by Qutub-ud-Din-Aibak, first Sultan of Delhi in AD 1199.
Rumor has it that this Indo-Islamic architectural site was constructed in two and a half days and that's where it gets its name. Adhai Din ka Jhopra is a relic of an old mosque which was constructed with remains of Hindu and Jain temples. Though most of the ancient temple is in ruins today, the area of the mosque is still used as a place of worship. Complete with arched screens, ruined minarets and distinct beautiful pillars it is an amazing place to visit..
Ajmer Sharif Dargah
Ajmer Sharif Dargah, the tomb of Moinuddin Chishti is one of the holiest places of worship in India not only for the Muslims but followers of every faith. Being the final resting place of the Gharib Nawaz Moin-ud-din Chishti, it has had an enormous contribution in spreading the ethical and spiritual values of Islam amongst masses. A peculiar kind of fascinating aroma prevails in the shrine throughout time, which inspires the visitors with a spontaneous and irresistible urge towards spirituality, giving the place the aura of the presence of some exalted soul or mighty spiritual king.
Dargah Sharif is undoubtedly the most famous pilgrimage centre in Rajasthan. It is the resting place of Khwaja Moin-ud-din Chisti, who was a great Sufi Saint and dedicated his entire life for the upliftment of the poor and downtrodden. The shrine is visited by millions of people every year, as it is considered very sacred by people of all the religions.