Rajasthan Wildlife Tour
Destination Covered:
Jaipur (By air-conditioned Car)
Days of operation:
Duration: 10 Nights / 11 Days
Covered Palace:
Delhi - Sariska - Jaipur - Sawai Madhopur - Ranthambore National Park - Bharatpur – Agra - Delhi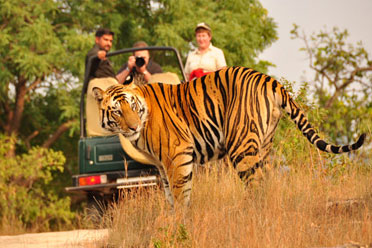 Our Description:
The largest state in India and the erstwhile home of Rajputana rulers, Rajasthan is a popular tourist destination for global travelers. The popular tourism aspect of this state are forts, palaces, sand dunes, temples and wildlife sanctuaries. The 'Rajasthan Wildlife Tour' package includes visits to three prominent wildlife sanctuaries in Rajasthan which include Sariska, Ranthambore and Keoladeo Ghana National Park.
Tourist Attraction Places:
Ranthambore National Park
Ranthambore National Park is a vast wildlife reserve near the town of Sawai Madhopur in Rajasthan, northern India. It is a former royal hunting ground and home to tigers, leopards and marsh crocodiles. Its landmarks include the imposing 10th-century Ranthambore Fort, on a hilltop, and the Ganesh Mandir temple. Also in the park, Padam Talao Lake is known for its abundance of water lilies.
Sariska Tiger Reserve
Sariska Tiger Reserve is a tiger reserve in Alwar district, Rajasthan, India. It stretches over an area of 866 km² comprising scrub-thorn arid forests, dry deciduous forests, grasslands, and rocky hills. This area was a hunting preserve of the Alwar state and was declared a wildlife reserve in 1955.
Jhalana Safari Park
Sprawling forest reserve with safari tours of wildlife, including leopards, jackals & civets.
Keoladeo National Park
Keoladeo National Park is a vast bird sanctuary and former royal game reserve in the north Indian state of Rajasthan. South of the ancient city of Bharatpur, the park's woods and man-made wetlands protect over 350 species of migratory and resident birds, including herons, cormorants and eagles. To the southeast, Fatehpur Sikri is home to sandstone temples and a mosque, built by Emperor Akbar in the 16th century.